TAKE ADVANTAGE OF FREE DOMESTIC SHIPPING ON ALL BOOKS BY LAURENCE OVERMIREDETAILS

​

Written by Steve Turner for the Genealogical Forum of Oregon (

GFO

) of Laurence Overmire's two epic family histories:

ONE IMMIGRANT'S LEGACY: THE OVERMYER FAMILY IN AMERICA, 1751-2009, and
A REVOLUTIONARY AMERICAN FAMILY: THE McDONALDS OF SOMERSET COUNTY, NEW JERSEY.

READ IT HERE
---
Buy it here directly from the
publisher
and receive a free author autograph and free domestic shipping.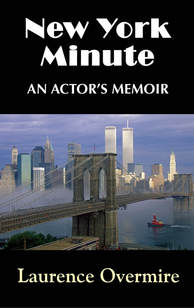 Life passes us by in a New York Minute.
Change, for better or worse, is happening with every moment that slips away.

This intimate and thought-provoking memoir by actor/poet Laurence Overmire is told through a unique combination of poetry and prose, what the author calls a "diary in art." Coming from a small town in the Midwest, Overmire embarked upon a career in theatre in the Big Apple. What happened in that New York minute educated and awakened him: a remarkable and thrilling encounter with the deep truths of life.

"Brilliantly expresses the exhilaration, fear, heartache, joy, disappointment, laughter and, ultimately, the loss of innocence that actors undergo when moving to New York to embark on a life in the theatre." ~ Dea Lawrence, CMO, Variety
---
---
with an Introduction by Professor Ted Cowan, Scottish Historian, University of Glasgow

Read the Stag & Thistle Review
by Anita Scott-Philbrick, PhD, Deputy Chieftain, Clan Scott Society
Stag & Thistle (April/May/June 2016; Vol 37 No 2)

Digging for Ancestral Gold
The Fun and Easy Way to Get Started
on Your Genealogy Quest
by Laurence Overmire

GENEALOGIST LAURENCE OVERMIRE, author of 4 epic family histories, guides you on a treasure hunt to get you started on your own genealogy quest. This is the perfect illustrated workbook for finding your ancestry - the fun and easy way! Featuring a Treasure Map, how to blast through brick walls and how DNA can help. A wonderful hobby for all ages!
Scroll down to see what people are saying about
The Ghost of Rabbie Burns: An American Poet's Journey Through Scotland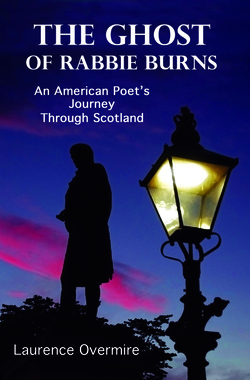 Part travelogue, part diary, part poetry, history and genealogy, The Ghost of Rabbie Burns is a captivating and evocative piece of work by American poet Laurence Overmire, who embarked upon an adventure through Scotland to find the lost connections to his ancient Scottish relations, including the iconic poet Robert Burns.

From Bannockburn to Culloden, from Edinburgh to Stirling, from Inverness to Skye, to Glencoe and Loch Lomond, Glasgow and Dumfries, each page reveals another thread of the lore and the mystery, offering a fresh perspective on the times, the places and the people that are woven into the beautiful tapestry that is Scotland.

Whether you are a Scot yourself, a traveler to the realm or a lover of all that it means to be Scottish, this is a book that will find its way into your heart and your soul – a haunting and inspiring evocation of past, present and future, not at all unlike the ghost of Rabbie Burns.


---
Praise for The Ghost of Rabbie Burns
"This collection of well crafted poems by Laurence Overmire was inspired by his pilgrimage, in 2014, to the 'enchanted land' of his forefathers, Scotland. The poet's "yearning to connect" with his Scottish heritage is touchingly sincere and thoughtful. Many of the poems are historically informative and well researched, some atmospherically descriptive and others laced with a wry but kindly humour. The author's philosophical observations and ideals are in line with Scotland's egalitarian stance in the world often represented through the writings of Robert Burns to whom Overmire pays homage.
I have thoroughly enjoyed this poetic journey and am always gratified by the tremendous enthusiasm, joy and love displayed by the great Scottish diaspora for the culture, scenery and people of it's Motherland. This fine collection of poems from the pen of Laurence Overmire leaves us in no doubt of his sense of belonging to Scotland."
~ Isla St Clair, singer and broadcaster

"A wonderful book of poetry and a great asset if you are making a trip to Scotland."
~ Duke of Argyll, Chief of Clan Campbell

"To most people there comes a time when they ask, Where do I come from? Who were my forefathers? And above all, Where do I fit in to all of this? This book, The Ghost of Rabbie Burns, offers the reader a pathway into the past where one can gain a true perspective of their own Scottish heritage, and for the non-Scot, an understanding of the culture with which Robert Burns wrote, and was so passionate about.
Historically interesting and accurate, intelligently put together, an ideal platform for the enquiring mind to gain a passionate perspective of olden Caledonia. Read and enjoy."
~ Steve McDonald, composer, Sons of Somerled

"The Ghost of Rabbie Burns is for Americans of Scottish descent who value and celebrate their ancestral connections, as do I. This book is a poetic, informed and sensitive testament to Scotland – its history, its art, its enduring values, its conflicts, and its spirituality. I am delighted with Mr. Overmire as poet and author. I recommend the volume."
~ Weeden Nichols, F.S.A. Scot., President, Clan MacLeod Society USA

"Laurence has created what I would describe as a free form guide book to his ancestral home, an amusing, heartfelt, historical journey that every exile should take - in each passing generation, grows a greater patriotism for the motherland. Weel duin, Laurence."
~ Iain H Scott, Scocha

"What Overmire has captured is that idea of the warrior/poet/wanderer so many of us dream of being. We can live the adventure of William Wallace at Stirling Bridge, or the devotion of Greyfriars Bobby, or the heartbreak of Culloden that one cannot help but feel in your first visit to Scotland. Whither from your armchair at home with a glass of single malt in your hand, or on the plane ride over for your own first Scottish Adventure, I would highly recommend Overmire's capture of his own 'first trip home.' "
~ Eric Bullard, President, Clan Buchanan Society Intl., Inc.

"The Ghost of Rabbie Burns is an engaging meditation on Scotland, its history, places and people which have contributed toward the creation of Scottish identity."
~ Rev. Calum I. MacLeod, Minister of St. Giles' Cathedral, Edinburgh

"The imagery evoked in his verse and the moral lessons imparted by Laurence represent the message of Robert Burns for the modern time. We are reminded of the timelessness of the Bard and the debt we owe to improve life around us."
~ Mark Myers, President, Clan Maclean Association of California, USA
"Insightful and delightful. Overmire's account of visiting Scotland, the world of his ancestors, is heartfelt and combines history lessons with scenes as a tourist just fumbling along. The Ghost of Rabbie Burns reveals how a poet can connect the dots of the past and the present to the future as a visitor in the auld world."
~ Stewart MacNeil, The Barra MacNeils
"He uncovers the heart of each place he visits and helps us know the very soul of this country. In reading his verse, we come to discern not only who the ancient Scots were, but also, who we, the descents of these often fierce people, really are. As Overmire states, 'fantasy, myth, legend, truth. All are intertwined in the story that is Scotland.'"
~ Anita Scott-Philbrick, Ph.D, Deputy Chieftain, Clan Scott Society
"Poet Laurence Overmire has captured what it is like for those with even a trace of Scottish heritage to long for a connection with their ancestral roots. In The Ghost of Rabbie Burns he reveals in poetic form those aspects of Scottish history and Scottish personages that have had such an influential impact on western civilization. It is refreshing to view history in the context of poetry."
~ Larry Bardell, President, Oregon Scottish Society
"In here there's honest poetry,
That paints a heart, an' a' that,
The Laurence way, through pass and glen,
We see a land an' a' that.
For a' that, an' a' that,
The map's obscure, an' a' that,
But the heart and lore comes shining through,
The book's the gowd for a' that!"
With apologies to the Bard.
~ The Rev. Richard Frazer, Minister of Greyfriars Kirk, Edinburgh
"Upon reading thru this exquisite book, I couldn't help but think of my travels thru the homeland of my forefathers... my memories being awakened from the creativity of the author and his ability to recreate experiences I fell in love with. The art of painting into words my homeland and its history was well done and should be experienced by all whose blood runs 'Per Mare Per Terras.' "
~ Chevalier Dr. Gregory A. McDonald, D.D.S., K.T.J., formerly Ohio Deputy Commissioner, Clan Donald USA
"An enchanting read that highlights Clan Douglas and the amazing Robert Burns."
~ Carol Morton-Bianchini, Regent (North), Clan Douglas Society of North America
"This is a memorable and skillful collection which admirably manages to capture some of the idiosyncrasies of both Scotland and America. It is to be hoped that it will find an appreciative readership on both sides of the Atlantic."
~ Ted Cowan, Emeritus Professor of Scottish history and literature, University of Glasgow
"A pleasant book to curl up with on a cold winter's evening in front of the fireplace, or at the beach on a sunny summer day."
~ Margaret Frost, Chairman, Scottish American Society, and President, American Clan Cumming Association
The Ghost of Rabbie Burns is now available at the West Linn Public Library; Driftwood Public Library, Lincoln City; and Newport Public Library, Oregon.
Please ask for a copy at your local library, then let us know if you find it there!
See the Press Release here. Author available for in-person or on-line appearances.
---
Publisher's Sale!

Big savings on entire catalog of books from Indelible Mark Publishing.

Family history and poetry books that can last a lifetime and be handed down for generations.
---
Two new Kindle books by genealogist Laurence Overmire available now!

---

---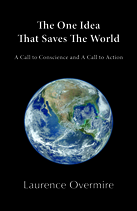 ---