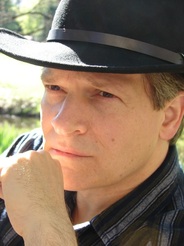 LAURENCE OVERMIRE, said to be a descendant of an uncle of the iconic Scottish poet Robert Burns, follows in the ancient tradition of the Celtic bards. He is a "true
sennachie
," according to Scottish historian
Ted Cowan
(University of Glasgow), someone who is both a genealogist and a poet. He is also an actor, director, playwright, educator, public speaker and the author of 9 books. His philosophical work
The One Idea That Saves The World: A Call to Conscience and A Call to Action
has been receiving widespread attention for its stirring message of unity and hope in the face of the dire challenges that now threaten human existence on this planet.
Known to many for his work as Poet-In-Residence on
The Jeff Farias Show
, Overmire's
poetry
has been widely published in hundreds of magazines, journals and anthologies worldwide. His latest book is
New York Minute: An Actor's Memoir
recounting his experiences as a young actor in New York City before and after
9/11
. Other works include
The Ghost of Rabbie Burns: An American Poet's Journey Through Scotland
;
Report from X-Star 10
, a collection of Sci-Fi poetry drawing attention to serious environmental issues;
Gone Hollywood
, a revealing look at the realities behind the illusions of Show Business; and
Honor and Remembrance, A Poetic Journey Through American History
. His plays include
Slingshot;
A Woman in Washington's Army;
and
A Scrooge Mart Christmas Carol
.
Overmire became a professional actor with the world-renowned Guthrie Theater in Minneapolis and then went on to a successful career on stage, film and television in New York and Hollywood including the Broadway production of
Amadeus
directed by Sir Peter Hall, the network TV soap operas
All My Children
,
As the World Turns
,
One Life to Live
,
Another World
and
Loving
, and Joseph Papp's New York Shakespeare Festival. He also served as Executive Producer of the Writer's Lab, a non-profit organization in Hollywood to promote quality writing in the entertainment industry, and has been involved in arts education for over 25 years, designing and teaching programs for Lincoln Center Institute of New York City, Manhattan Theatre Club, MeadowBrook Theatre, and Oregon Children's Theatre among others.
An accomplished genealogist, Mr. Overmire is the author of five genealogy books:
Digging for Ancestral Gold: The Fun and Easy Way to Get Started on Your Genealogy Quest
;
One Immigrant's Legacy: The Overmyer Family in America 1751-2009;
A Revolutionary American Family: The McDonalds of Somerset County, New Jersey
;
William R. McDonald and Abigail Fowler of Herkimer County, New York and Their Descendants
and
The McDonalds of Lansingburgh, Rensselaer County, New York: The Pioneering Family of Richard and Catharine (Lansing) McDonald and Their Descendants
. He has also published several genealogical studies online, most notably
"The Ancestry of Overmire, Tifft, Richardson, Bradford, Reed,"
which has received over 1.8 million hits. His work has helped hundreds of thousands of people discover their family roots and find their intimate connections to the people and events that have shaped world history.
Overmire began writing poetry as a way to document and reflect upon his experience, compiling what he refers to as a "diary in art." His background in the arts, rather than in academia, gives him a decidedly different perspective on the writing of poetry, one that emphasizes a right-brain as opposed to a left-brain approach and advocates complete freedom within the art form, simplicity of language, and focus on the importance of what is being expressed.
"Poetry is the art of using language to transcend language," Overmire says. "Much of my work comes out of two simple ideas. The first is
The Golden Rule
. Do unto others as you would have them do unto you. And the second is
We are One
. All of us are one family, interconnected and interdependent upon one another for our well-being. And central to both of these ideas are love and compassion. So a lot of what I write about are the things I see in the world that somehow violate these two ideas. As an artist, I believe it's very important to look at and confront the dark aspects of human nature. Those who refuse to look at or give expression to the dark side of life are in denial—fear preventing passage through the door of growth, truth and, ultimately, wisdom."
Born in Rochester, New York, and raised in Xenia, Ohio; Huntington Woods, Michigan; and Lorain, Ohio, Laurence has since lived in Manhattan, Brooklyn, Los Angeles, Minnesota, Virginia, Delaware, Pennsylvania, Alaska and Oregon at various times in his life. He graduated as salutatorian of
Marion L. Steele High School
in Amherst, Ohio, and as valedictorian of
Muskingum University
, New Concord, Ohio, with a B.A. in theatre and a B.S. in psychology (4.0 GPA). He was awarded a
Bush Fellowship
to attend the
University of Minnesota
, where he earned his M.F.A. in theatre arts, again graduating with a 4.0 GPA. He lives in West Linn, Oregon, with his wife, actor and educator
Nancy McDonald
.
Find out more about the author on his website,
laurenceovermire.com
, on Facebook at
facebook.com/poet.laurence.overmire
, and on Wikipedia at
wikipedia.org/wiki/Laurence_Overmire
---